On the Track to New Fields
While many seniors are scrambling to submit numerous college applications, nine students are resting a little easier. From spring of last year to just two weeks ago, these senior athletes committed to colleges to play collegiate sports.
"It feels really nice," Abby Tober said about committing. "Now I get to enjoy the little things in my senior year and I don't have to only be focusing on deadlines for college applications."
Tober will be playing Division I soccer at Merrimack College in Massachusetts, where she plans on majoring in Marketing.
Noah Santos is also headed to Merrimack College to play Division I men's soccer, and he plans to study engineering. Santos has been playing soccer since he was about three, and fondly remembers his time playing on the high school team.
"I became really close with some of my teammates and shared a lot of good moments throughout that created this sort of brotherhood," Santos said.
Connor Froberg, another member of the boys soccer team, will be playing for Division I next fall at the University of Rhode Island and potentially studying business.
"It has been my dream since I was little to play soccer for URI," Froberg said. "My dad and uncle both played there. I grew up watching all of their games so I have always been around URI."
Also playing soccer next year is Owen Ennis; he will attend West Point Military Academy and major in a field of engineering.
"I like just how much support you have, going there," Ennis said about West Point. "I really like the idea of knowing where I'm going after college." After graduation, Ennis will serve in the military for five years, then spend three in the reserves.
Emily Kallman will be headed to upstate New York to attend Vassar College and play Division III women's lacrosse. She plans on majoring in International Relations and Hispanic Studies. 
On the stressful chase for commitment, Kallman said, "What kept me going was that I had invested so much time and, honestly, money into recruiting, so I just wanted to make it happen. I think it's really a great [thing], especially in Division III, to be able to go to such a good school."
Clara Drinkwater is another lacrosse player and became the earliest committee from NKHS when she verbally committed to Colorado State University Pueblo for Division II last spring. She will be majoring in Biology, with a concentration in Environmental Biosciences. 
"I kind of knew I always wanted to go to Colorado and I kinda just fell in love with the coach," said Drinkwater. " It fit my major…and it seemed like it fit what I was looking for."
Ethan Wordell will be headed up to Brown University in Providence for track and field next year, where he intends to major in Computer Science.
"I really like the culture at Brown, and the team itself is full of driven people who want everyone to succeed," said Wordell.
Robbie Lamond, the only baseball player in this group of athletes, will be attending Wheaton College in Massachusetts to play for their Division III team and potentially major in business.
On what he enjoys about his sport, Lamond said, "The work you put in and what you get out of the work you put in. It's rewarding — the team aspect too — going to practice every day, working toward something."
The latest student to commit, Jackson Borge, is headed to Marist College in New York, where he will run Division I cross country and track and double major in Finance and Political Science.
"I began to realize that competing at the division one level was possible when I was a sophomore," Borge says. "During middle school I never imagined running in college, let alone at the Division I level."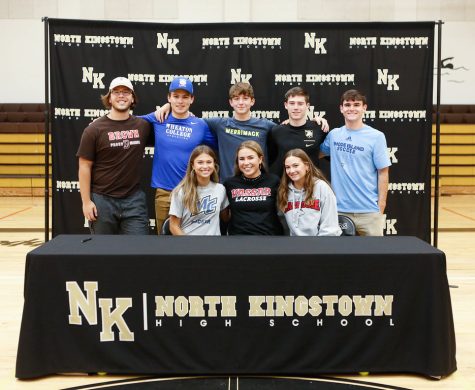 The ins and outs of the commitment process are not widely known by most students. While the typical senior who plans to attend college starts their search in their junior year and applications the following fall, many hopeful high school athletes have been planning their futures for the better part of their secondary school career. 
"I started researching and emailing schools when I was a freshman," said Froberg. "This is relatively early for starting the process but I think it definitely helped me."
Like Froberg, many begin their search by researching schools with athletics in their intended division and emailing the coaches about their interest. Coaches, if interested themselves, can attend these athletes' matches and meets to see whether the athlete would fit their college team.
Explaining her experience, Tober said, "I went to a couple of tournaments with my club soccer team and saw that Merrimack was going to one of them. I reached out to the coach and asked him to come to my game, and he ended up coming and I ended up meeting with him."
These tournaments, showcases, and matches that college coaches attend are most often those of club sports teams, which can add financial stress to these students' plates.
"The best way to get into college for sports, at least for lacrosse, is to be on a club team," says Kallman. "It can be really economically challenging for people. [Playing club sports] costs a lot of money, and every single tournament and every single clinic that you attend costs money on top of that."
For sports like lacrosse, some colleges also offer prospect days, where prospective athletes get to play for the coaches at the college. Once students and coaches connect through these events or through email, coaches can invite the students to take official tours of the school and even stay overnight to get a better feel of the environment.
Ennis said, "[West Point] reached out to me, and I went on a visit the summer of my sophomore year and they took me around the campus for the entire day."
Just as injuries can affect athletic performance and playing time, they can also impact the college admissions process.
"In my junior year, I tore my ACL, so it took like six months to recover," Ennis said. "[The West Point coaches] had to wait and see how I recovered."
Now that they have signed their papers, these athletes say it feels like there has been a weight lifted off their shoulders.
"It definitely feels a lot better knowing where you're going and not having to stress about all the different options," said Lamond.
Still, their work doesn't end once their applications are in.
"Now I am spending my time doing homework and looking for scholarship opportunities, so I still have plenty of work to do," said Wordell.
Going through this process has granted them clear hindsight, and they have words of wisdom to pass on to other student athletes hoping to play collegiate sports.
"If you truly are invested, stick with the process, no matter how difficult it may seem," said Santos. "It is a lot of work and takes time, but in the end it is always worth it."
"Start the process early," said Borge. "With an early start you can make such a good bond with the coach that is recruiting you."
"They get so many emails per day so don't worry if they ignore you, just stay persistent and keep reaching out," Froberg said.
Although much of their collegiate future depends on their own athletic and academic merit, many of these athletes recognize those who have helped them along the way, from parents, to friends, to coaches and beyond. 
"I would say my parents were the most significant in supporting me throughout my process," said Santos. "They were always willing to help me when I needed it, gave me tons of super good advice, and provided me with the ability to travel to these various schools for visits and camps."
Kallman recognizes the help that the school staff provided her.
"I want to thank Mr. Cobain and Ms. Mancini, 'cause they're the best."