Meet Mrs. Coleman and Mrs. Zilly: Sisters and science teachers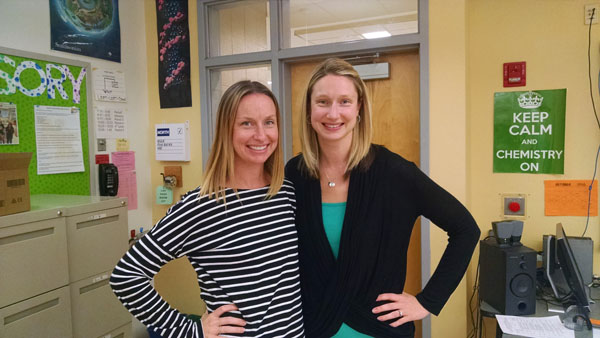 Advertisement
When Mrs. Britany Coleman and Mrs. Emily Zilly became teachers at NKHS over the summer, they predicted that their presence might create some initial confusion among the student body. However, the sisters, both of whom teach chemistry, did not anticipate that many of their new coworkers and colleagues would struggle to tell them apart.
"Several teachers have mistaken us for each other," Zilly said with a laugh. "On the other hand, the students in our classes were quickly able to [determine] who's who."
Contrary to what one might expect, Zilly and Coleman,  both of whom transferred from Rogers High School in Newport, had no dream of becoming coworkers during their childhood. In fact, neither Coleman nor Zilly had any special interest in science when they were in high school.
The sisters grew up in Glocester and attended Ponaganset High School. They got along relatively well during their childhood, although, like most siblings, they had their occasional squabbles. The worst of these conflicts was an incident during elementary school in which Zilly accidentally broke Coleman's arm during a fight over a jump rope.
Despite their original lack of interest in science, Zilly's and Coleman's parents, particularly their father, strongly encouraged them to pursue science-related careers. Additionally, the sisters' family valued education highly. In fact, several of Zilly's and Coleman's family members were elementary school teachers.
"Our dad wanted us to major in science so that we could find jobs," said Coleman, who is two years younger than Zilly. "Although [his actions might] seem harsh, we understand now that he wanted us to be able to find a good balance between our professional and personal lives."
While Zilly chose to study chemistry in college because it was "versatile and [she] did well on the AP Chemistry exam," Coleman decided to major in microbiology.
"I didn't like chemistry in high school because I didn't really understand it," said Coleman, who now teaches CP Chemistry and Earth / Introduction to Physical Science.
During college, both Coleman and Zilly became interested in pursuing education-related careers. Zilly discovered that she preferred student teaching over researching, while Coleman developed a passion for educating students in chemistry when she student-taught at NKHS 11 years ago. During her experience as a student teacher, Coleman truly mastered the subject of chemistry and no longer felt bewildered by it.
Eventually, Zilly and Coleman secured jobs as chemistry teachers at Rogers. Zilly got hired at Rogers first, and Coleman eventually followed in her footsteps, transferring from Lincoln High School. During their seven years together at Rogers, the sisters grew to love working together.
When positions as science teachers at NKHS became available this past summer, Zilly and Coleman encouraged each other to apply. Both reside in North Kingstown with their families, and they each have three children. "We decided that we would only transfer to NK if both of us got hired," Zilly said.
To their delight, both Zilly and Coleman were selected for the positions that they wanted. "It's nice to be a teacher at this school and a member of the community at the same time," Coleman said.
Unlike at Rogers High School, which is less than half the size of NKHS, the sisters now have a large team of science teachers to join forces with. "It's great having multiple other teachers in the Science Department to collaborate with." Zilly said. "Whenever I have questions or concerns about something, I can ask one of the three other chemistry teachers."
Zilly and Coleman are equally impressed with their students. "Our students are the reason why we do our jobs," said Zilly, who currently teaches Honors Chemistry and Computer-Aided Design (CAD). "In all five of my classes, they have been self-motivated, ready to learn, and really nice in general."
Coleman agreed. "[My students] have already exceeded my expectations," she said.