Dr. Mancieri chosen as permanent principal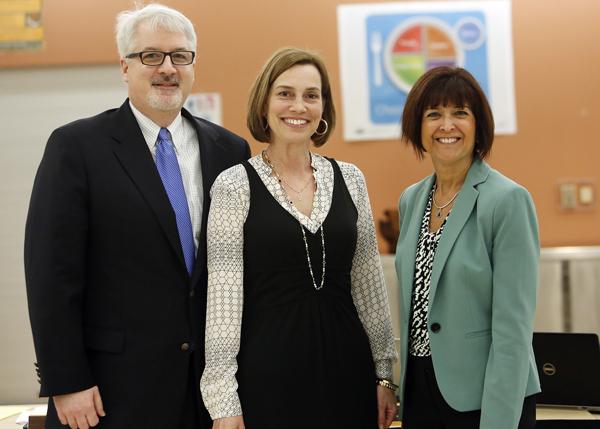 Advertisement
After serving as interim principal for six months, Dr. Denise Mancieri recently received big news – she gets to keep the most esteemed position in North Kingstown High School, as well as all of the opportunities and obligations that come with it. Mancieri will be the first female head principal in the 110-year history of the school.
At the recommendation of Dr. Phil Auger, superintendent, the School Committee formally selected Mancieri for the position on April 14. Although women have been assistant principals at NKHS throughout the past several decades and have filled other key administrative positions, Mancieri, who has been interim principal since Dr. Thomas Kenworthy's departure in Oct. 2014, is the first female head principal of the school.
First hired as a teacher at Wickford Middle School in 2002, Mancieri later transferred to the NKHS Careers Dept. and eventually became its chairperson in 2010. From Aug. 2012 until Kenworthy's departure, she served as Assistant Principal of Teaching and Learning.
Despite her progression of promotions to the position that she now holds today, Mancieri never set her sights on the position of head principal when she first became an NKSD employee 13 years ago.
In fact, Mancieri, a graduate of Seekonk High School in Mass. and URI, originally entered the world of business after college. Eventually, she earned her master's degree in education at Johnson & Wales University while working there as an employee.
Later, she became a business and technology teacher for "practicality reasons" despite a passion for science. "I just wanted to teach," Mancieri said. "It didn't matter which subject."
Initially, Mancieri wanted to become a teacher because she would have the ability to influence her students in a positive manner. Later, however, she came to the conclusion that she could still impact the lives of students as an administrator. "When you're [teaching] in a classroom, you can help the 25 students in front of you," she said. "In an administrative position, I realized that you can not only help 25 kids, but 125 or 1,025 [by making decisions]."
As principal, one of Mancieri's goals is to harness all of the information collected in the Student Management Office regarding health, grades, behavior and attendance in order to provide at-risk students with the help and services they need. She hopes to "potentially reduce the drop-out rate" by meeting with at-risk students in their freshman year.
In addition to being NK's newest head principal, Mancieri is also a wife and a mother. She enjoys spending time with her family and friends, and loves going to the beach and traveling.
With graduation approaching rapidly, Mancieri looks forward to rewarding seniors with their hard-earned diplomas at the Ryan Center on June 5. She wishes that she could hug every student, but added that doing so would not be possible. "[As vice principal], I was recently able to give my niece and nephew their diplomas," she said. "Now, I'll be able to hand out a whole lot more."
Both Dr. Phil Auger, superintendent, and Dr. Barbara Morse, Assistant Principal of Teaching and Learning, are excited to work alongside Mancieri.
"I am extremely pleased that Dr. Mancieri has been appointed the permanent principal of our school. As a member of the committee who interviewed the candidates and as her colleague for this past year, I can say without any reservation that she is the best person for the position."
– Dr. Barbara Morse, Assistant Principal of Teaching and Learning
"I cannot speak highly enough of Dr. Mancieri's performance for North Kingstown High School… In her six months as [interim principal], she has impressed our community with her leadership, organization, and commitment to our students."
– Dr. Phil Auger, superintendent