Six seniors prepare to play Division I sports in college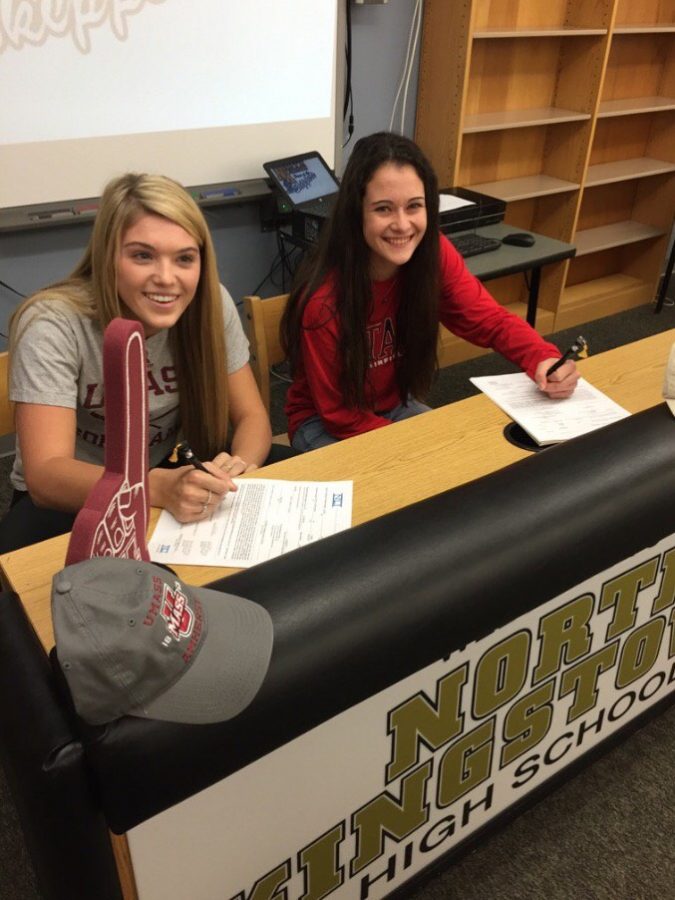 Jacob Maguire, Editor-In-Chief
April 8, 2017
As their final year of high school comes to a close, most seniors have begun to say goodbye to one of their favorite pastimes during their time at NKHS: varsity sports. The majority of these students will not participate in competitive athletics at the collegiate level, and some have already participated in the last organized sporting event of their lives.
However, six seniors, all of whom are women, have chosen to take their athletic careers to the Division I collegiate level. These seniors are Sara Barker, Emma Lennon, Meg Maguire, Kiara Oliver, Brooke Osmanski, and Adeline Sutton. Several other seniors will also be playing various sports at the Division II and III levels.
Some of these seniors, including Meg Maguire and Brooke Osmanski, have been playing their respective sports of expertise since they were toddlers. Maguire got her first field hockey stick as a present for her third birthday, while Osmanski started playing soccer for Ocean State at the age of four.
"For as long as I can remember, field hockey has been a major part of my life," Maguire said. Maguire, who will play field hockey at Fairfield University, recalls watching the Skippers field hockey team, which her mother has coached since 1989, win back-to-back state championships in 2003 and 2004. More than a decade later, in the fall of 2015, Maguire would win a state championship of her own at the school.
However, senior Sara Barker will row at Marist College despite having only participated in crew for the past three years. Barker, who has played for the field hockey, lacrosse, and track teams during her years at NKHS, has also been a member of the Osprey Rowing Club since her sophomore year of high school. "I look forward to meeting people who are just as motivated as me," Barker said. "I am really excited to be surrounded by like-minded people."
Likewise, senior Kiara Oliver, who will attend UMass – Amherst next year, cannot wait to become a member of the school's close-knit softball team. "The most exciting part about playing a Division I Sport in college next year is that I will be part of a family," Oliver said. "Family and friends are very important to me, so knowing that I will be going to school and playing competitively with a group of people who have the same goals as me is very exciting."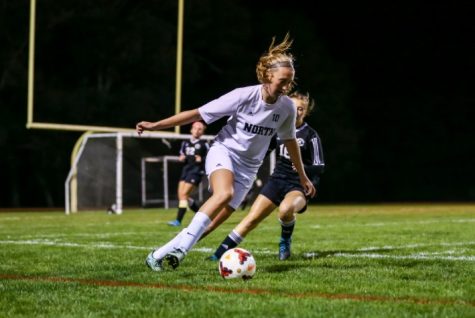 For Osmanski, who will attend URI in the fall, playing soccer at the Division I level was a childhood dream that she only recently began to perceive as a realistic goal. Osmanski is the only native Rhode Islander among the eight freshman recruits for the 2017 URI women's soccer program. "[Division I] is a level of athletics that people can watch on TV and a level of sports that kids look up to," she said. "I am glad that I could achieve this, and I wasn't sure if it could happen."
Much like Osmanski, senior Emma Lennon, who will play field hockey at Colgate University, has also had her sights set on Division I since an early age. "Division I is the best [level], and I want to push myself," Lennon said. "[Playing Division I field hockey] has always been my goal, and I would have been disappointed if I didn't achieve it."
All six seniors agree that they owe a significant part of their athletic successes to their parents and coaches. For example, Maguire feels that her mother, who also played field hockey at both North Kingstown High School and the Division I collegiate level, has inspired her the most. "My mom has been my coach and my greatest source of motivation," Maguire said. "While growing up, I wanted to be like her."
Meanwhile, Lennon is extremely thankful for all of the encouragement and support that her parents, grandfather, and coach from the Lead the Way organization, Patti Bossio, have given her. "For me, my biggest source of inspiration came from my coach, Patti Bossio, because she pushed me in a way that led me to achieve everything that I could," Lennon said. "It also meant so much to me knowing that, at every game throughout my athletic career, my mom, dad, and grandfather would always be in the stands."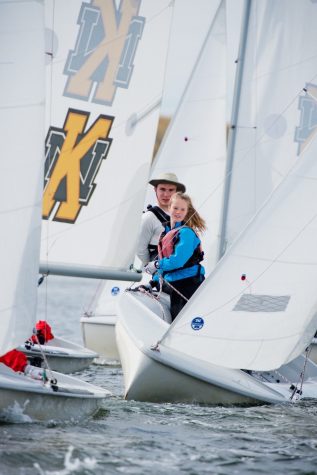 Senior Adeline Sutton recommends that high school students who are interested in playing at the Division I level in college "cast their nets broadly" and "start looking at colleges and talking to coaches early." She credits this strategy with giving her the opportunity to sail at Cornell University, an Ivy League institution with roughly 14,000 undergraduates.
Similarly, Osmanski encourages prospective Division I student-athletes to follow their dreams. However, she stresses that motivation and a genuine passion for the game are essential. "You need to love the sport that you want to play in college," Osmanski said. "Find your passion, set a goal, and then work for it."
As these seniors prepare to graduate from high school and proceed to the next level in their academic and athletic careers, they have all reflected on their favorite memories. For example, Sutton fondly recalls beating Tabor Academy as a freshman after the private boarding school's sailing team received a technical foul. She has also "really enjoyed spending time with [her] high school teammates as [they] have travelled to Rochester, NY, Norfolk, VA, and Florida."
Barker, Lennon, Maguire, Osmanski, and Oliver echoed Sutton's sentiments. All six women feel that routine experiences, such as demanding workouts and spirited bus rides, have still been incredibly meaningful to them because less common events, such as underdog victories and hard-fought championship games, have served to augment their more mundane memories.
These six seniors also agree that their athletic experiences have benefitted them immensely in other areas of their lives. "I believe that playing a sport [at any level] is really important," Oliver said. "It teaches you valuable lessons [about] time management, stress management, the importance of friends, and how collectively working together will give you greater outcomes than working alone."
Seniors who will be playing at the Division 1 Collegiate Level:
Sara Barker
Sport: Crew / Rowing
College / University: Marist College (Poughkeepsie, NY)
Emma Lennon
Sport: Field Hockey
College / University: Colgate University (Hamilton, NY)
Meg Maguire
Sport: Field Hockey
College / University: Fairfield University (Fairfield, CT)
Kiara Oliver
Sport: Softball
College / University: University of Massachusetts – Amherst (Amherst, MA)
Brooke Osmanski
Sport: Soccer
College / University: University of Rhode Island (Kingston, RI)
Adeline Sutton
Sport: Sailing
College / University: Cornell University (Ithaca, NY)