Rhode Island Youth Theatre Presents Addams Family and… Opportunities.
In a performance that requires over 30 wigs and for every ensemble member to be in complete make-up, The Addams Family is set to be one of Rhode Island Youth Theatre's most ambitious productions.  
Last week, cast members worked through technical rehearsals at the South Kingstown High School's theater. Previously, they had been rehearsing at the South Kingstown Recreation Center. Rehearsals began around the end of November, with the shows happening last weekend, January 7 and 8. 
Throughout the course of just over a month of the performance, RIYT's students have been given the opportunities to be a part of production of the show, with cast members learning how to put wigs and makeup on their fellow actors. 
 RIYT provides a variety of opportunities for their pupils, as well as summer jobs that can be applied for where teens can work as choreographers, music directors, customers, set designers, as well as lighting or sound technicians.   
Cast member Ruby Costa, playing Wednesday, has put her sewing skills to use for the show and has helped with fixing and altering many of the costumes in the show. 
Costa applied to work for RIYT this upcoming summer through the program Skills for RI. Costa had to write six essays with various prompts, such as "What was the hardest challenge you have been through?" and others along those lines. 
"And from there I will hopefully get chosen to work [for RIYT]. Well, I am told that I will be chosen," Costa said.   
Rhode Island Youth Theatre has been inspiring our state's young performers since 1987, and plans continuing to do so for years to come.  Many of the performers have found friendships within the shows, made lasting memories, and learned important lessons. 
Sayuri Lahkar, playing Grandma, says her favorite memories have happened after the shows when the cast gets together for a cast party, as well being a part of the Addams Family. 
I've always loved performing, ever since I was as young as seven, but around seventh grade to the beginning of freshman year I hit a bit of a confidence slump when it came to theater. For around two years my passion for theater went radio silent, until I decided to participate in RIYT's production of Beauty and the Beast this past spring. I got cast as Belle, which I was extremely honored by, and thus I was sprung back into my passion for musical theater. I did two of their shows at the Park Theater this summer as well as helped with the original musical Rock Show, written by North Kingstown graduate Cooper Cardone.  
Without Rhode Island Youth Theatre I would not have all the friends and confidence that I do now, and I highly recommend taking part in at least one of their shows when the opportunity arises.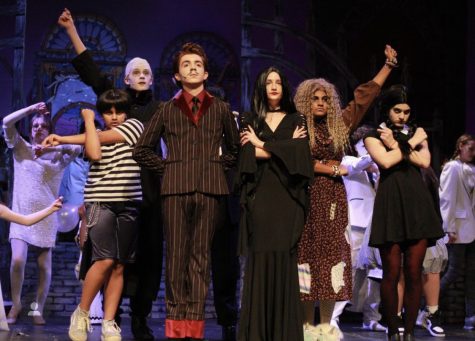 Photo by Bryn Martin, @createdbybryn on Instagram