From the perspective of a person behind the byline: How The Current Wave has benefited me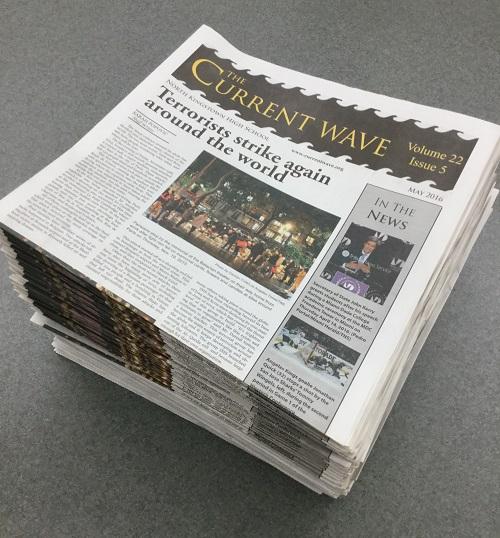 Jacob Maguire, News Editor
May 31, 2016
When I first started school at NKHS on an exciting, although sweltering, day in August of 2013, I did not imagine that serving on The Current Wave staff would become a central part of my high school experience. I had signed up for Introduction to Journalism that semester, and figured that I might register for Newspaper Production the following year if I enjoyed the introductory course. Now, nearly three years later, I am proud to say that journalism has become a defining aspect of my time at NKHS.
When I found out last month that the administration intended to cut Newspaper Production prior to my senior year, I was devastated. It upset me even more, however, that only seven students, including myself, out of nearly 1400 students in this school, expressed an interest in signing up for the course.
Although I recognize that the School Department needs to be fiscally responsible by eliminating elective courses with low enrollments, I still find this situation to be extremely disappointing. My experiences on The Current Wave staff have been nothing short of amazing, and they have played a key role in shaping who I am today. While serving as a reporter and editor for The Current Wave over the last two years, I have improved my writing abilities, met many students and teachers with unique stories to tell, and won several awards. In addition, my experiences on The Current Wave have helped me to determine my career interests and have led me to find an idea for my senior project.
During the semester that I spent in Introduction to Journalism and the last two years that I have spent on The Current Wave staff, I have greatly improved my writing abilities. Serving on The Current Wave staff has undoubtedly supplemented my English courses by helping me to become a better writer. In fact, studies have shown that students who become involved with their school's newspaper or yearbook tend to perform better academically than students who are not active members of their school's journalism programs. For example, a 2008 study found that students who participate in their school's journalism program tend to post higher GPA's and earn higher scores on standardized tests than students who do not help to produce their school's yearbook or newspaper.
Serving on The Current Wave staff has also led me to encounter dozens, if not hundreds, of new and exciting people that I may not have otherwise known. Not only have I met a number of students and faculty members and heard their unique stories during my time on The Current Wave staff, but I have also become friends with all of my fellow editors and reporters. If I had never taken any journalism courses, and solely enrolled in engineering or business electives, I may have never met Sara Boldt, Alexa Brennan, Katie Cox, Emily Jones, Amelia Oates, Hannah Stall, and most of the 18 other editors and reporters on The Current Wave staff.
In addition, I have received numerous journalistic awards as a result of my involvement in the production of our school's newspaper. While serving on The Current Wave staff, I have written numerous articles and have received a plethora of feedback regarding my writing from my fellow editors and from my teacher, Mrs. Elizabeth Kenworthy. Because I have used their advice to furthermore improve my writing, I have earned several awards. The New England Scholastic Press Association has given me special recognition for three articles that I have written, and I have also been selected as the Rhode Island winner of the Al Neuharth Free Spirit & Journalism Award. As a result of winning this award, which is named after the founder of USA Today, I will attend a week-long, expenses-paid journalism conference in late June at the Newseum in Washington, D.C.
Lastly, my experiences on The Current Wave have helped me to narrow down my career interests and have led me to find an idea for my senior project. Because I enjoy writing and debating, I have decided to become a lawyer. Although I have chosen not to directly pursue a career in journalism, I am confident that the writing skills that I have acquired in my journalism courses will help me in law school and in the courtroom some day.
Even though journalism will likely not be the focus of my career, it will be the focal point of my senior project. Next year, I intend to continue the tradition of having The Current Wave at our school by leading it as an after-school program for my senior project. By doing so, I hope to revive The Current Wave and turn the tides against its recent decline in enrollment.