Reflecting on a five-day journalism seminar whose impact will last a lifetime (Original article)
The five days that I spent at the Al Neuharth Free Spirit and Journalism Conference in Washington, D.C. were five of the most exciting and memorable days of my life. Not only did I meet some of the most renowned journalists, media professionals, and photographers in the United States during the extraordinary seminar, but I also made 50 new friends.
Even though I attended the Al Neuharth Free Spirit and Journalism Conference from June 18 until June 23 in Washington, D.C., my experiences with the program truly began on one April afternoon when I opened my e-mail account and noticed that I had received an email from Karen Catone, the Newseum's Program Director, with the words "WINNER" in the headline. I immediately began hyperventilating with joy as I read the email's contents and realized that the Newseum had selected me to represent Rhode Island at the all-expenses-paid conference that carries the name of USA Today's founder, Al Neuharth.
Although my euphoria eventually subsided as I faced the final two months of my junior year, which pushed me to my physical and psychological limits as a student, the thought of the approaching conference never ceased to bring a smile to my face. About a week before I departed for the conference, I actually connected with my counterparts from each of the other states in the Union and D.C. on GroupMe, a group messaging app. Watching Nina Raneses, the Virginia representative, and Jacob DeFay, the Arkansas representative, dominate the group feed with their messages about how excited they felt definitely increased my enthusiasm about the conference.
Once I departed the T.F. Green Airport in Warwick and arrived in D.C. about 90 minutes later, I encountered my first fellow Free Spirits at the Reagan Airport's baggage claim. After introducing myself to Michael Katz from Florida, I met Clyde Schwab from Illinois, Emily Liu from Kentucky, and Rick Sear from Wisconsin. Within the next couple of hours, I became acquainted with the remaining 46 members of my Free Spirit class.
Over the next several days, my fellow Free Spirits and I listened to some of the most distinguished journalists in the country share their experiences in the rapidly-changing industry that we all know and love. During a session at the Newseum, we talked with Susan Goldberg, the editor of National Geographic, about how she became the highest-ranking editor in one of the nation's most prominent magazines. My fellow Free Spirits and I also met Sara Ganim, a reporter who rose to fame  and earned the Pulitzer Prize in 2012 when she broke the story about Jerry Sandusky's sexual abuse of numerous young men. Ganim, who was working for a small-town newspaper at the time, is now a renowned correspondent at CNN.
In addition, we met Chris Berman, a sportscaster at ESPN, and Mike McCurry, a communications consultant who served as Bill Clinton's press secretary from 1994 until 1998, among numerous other presenters. McCurry, who will coordinate the upcoming presidential debates between Hillary Clinton and Donald Trump, showed me that my interests in journalism, history, and politics can coexist and complement one another. A discussion with several acclaimed journalists about their efforts to cover the 2016 presidential election and a panel of experts that explained the educational options for aspiring journalists reinforced the idea that I could pair my interest in journalism with an interest in another academic realm when I pursue higher education.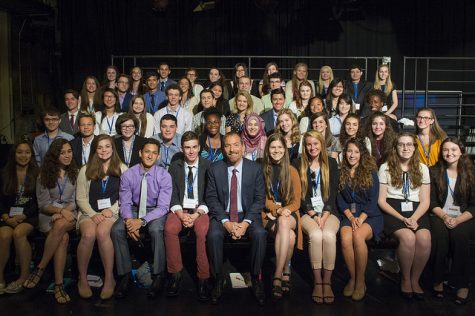 Outside of the Newseum, we watched Chuck Todd record an episode of Meet the Press in his studio in Washington, D.C., visited the USA Today headquarters in McLean, Va., and admired each of the major U.S. memorials in the D.C. area. We also met Royce Lamberth, a judge at the U.S. District Court for the District of Columbia, and toured the House and Senate chambers at the U.S. Capitol Building. Shortly after we left the Capitol Building, we watched a sit-in led by the Democratic members of the U.S. House of Representatives unfold on national television in opposition to the Republican majority's refusal to confront the issue of gun violence.
During each of these seminars and tours, my fellow Free Spirits and I bonded as we encountered some of the most prominent individuals in the journalism industry and explored various sites. Over the course of five days, we became best friends. It sounds a little far-fetched and idealistic to say that we became really close over the course of roughly 120 hours, but it is the truth. I am glad to have made a new friend in every state in the country and the District of Columbia. The new friends that I made also reflect the diversity of the country that we all inhabit. Not only did they come from different geographical areas and legal jurisdictions in the United States, but they also have various accents, ethnicities, religious beliefs, family backgrounds, and cultural traditions. From Channing Smith in neighboring Connecticut to Dylan Miettinen in Nebraska and Ashley Anumba in California, I am pleased to say that I now have someone to hang out with whenever I visit any other state in the country.
I am extremely grateful to everyone at the Newseum who made my experience at the Al Neuharth Free Spirit and Journalism Conference possible, and I encourage any juniors who have an interest in journalism to apply for the award.
As my fellow Free Spirits and I proceed from high school to college and progress from adolescence to adulthood, I am confident that each of us will be highly successful. Many of my new friends will undoubtedly become successful journalists, and we will all definitely pursue occupations that pertain to journalism in some way, shape, or form. Even so, I am certain that those of us who choose not to seek careers directly in the field of journalism will become the subjects in newspaper headlines or on television screens at some point in our lives as we embody Al Neuharth's legacy by leading the United States as innovators, cultural icons, and political leaders.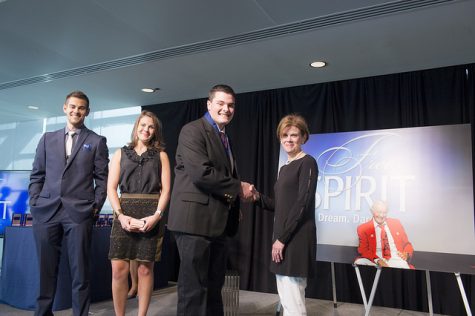 NKHS alumni of the Al Neuharth Free Spirit and Journalism Conference:
John Radzinski, 2003
Chris Curley, 2004
Brittany Nugent, 2005
Samantha Turner, 2006
Jacob Maguire, 2016