Students, faculty remember Daniel Coates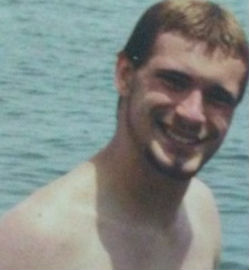 Jacob Maguire, Editor-In-Chief
February 13, 2017
When junior Dan Coates died unexpectedly on Oct. 17, his death sent shock waves through the high school and surrounding community.
However, few students were as surprised to learn that Coates had taken his own life as junior Maya Hanrahan, his longtime girlfriend. Hanrahan, who met Coates at the end of eighth grade when he had moved to North Kingstown from Warwick, went out with him for a two-year period that spanned from the fall of their freshman year until his death.
"There were absolutely no warning signs," Hanrahan said. "Although I knew that he had [suffered from] depression, it was never to the point where I'd think that this would happen."
Rather than solely recalling his death, Hanrahan hopes that the students and teachers who didn't know Coates as well as she did will remember all of his positive qualities.
"He was just so kind to everybody," Hanrahan said. "He would let anybody be his friend. Dan always wanted to make sure that everyone else was happy."
As Hanrahan grew closer to Coates, she became more fully aware of his favorable traits. "Dan was really shy, but once you got to know him, he always made your day," Hanrahan said. "He was a very positive person."
Hanrahan also characterized Coates as a "role model and father figure" for his younger siblings, who attend Davisville Middle School and Forest Park Elementary School. "He took really good care of them," she said.
Furthermore, Hanrahan described Coates, who wanted to be a video game designer, as "an amazing artist."
In the months since Coates' death, Hanrahan has slowly but steadily recovered and found an inner sense of peace. "I have given myself time to heal, and I've also [reached out] to my other friends," Hanrahan said. "When I'm here [at NKHS], I'm here for school."
Much like Hanrahan, Mrs. Elizabeth Parvo-Brown, who had served as Coates' guidance counselor since his sophomore year at NKHS, remembers him fondly. "He was quiet and shy, but he had a very sweet smile and a core group of friends," Parvo-Brown said. "When you hit upon topics that he cared about, such as his girlfriend or his interest in art, he would light up from within."
During her meetings with him, Parvo-Brown never detected any warning signs about Coates' mental health. "If there was an internal struggle, I wasn't aware of it," she said.
Mrs. Janice Strain, a Fine Arts teacher at NKHS, taught Coates in her Foundations of Art class for a semester during his freshman year of high school. Even though she only had Coates as a student for a single semester, she developed a deep sense of admiration for him.
"Dan was a respectful and quiet student who focused on his work," Strain said as she struggled to hold back tears. "He did everything to the best of his ability."
Strain even submitted a painting that Coates had created to a local art show, where she said that it was "very well received." Today, Strain hangs the painting, which Coates had titled "Green Apple," in her classroom as a memorial.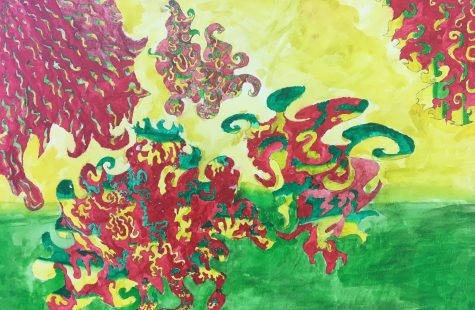 Coates' death reminds Strain of other students that she has lost during her years as a teacher in the North Kingstown School Department. "I've lost six or seven students [due to various causes] over the years, which is too many," Strain said. "It shouldn't have to be this way."
Strain also has the artwork that some of her other students had created before they died. For example, Strain has kept a sculpture that one of her students at Davisville Middle School had made shortly before she died of a sudden illness. "I had just put [this student's] clay sculpture into the kiln at Davisville Middle School, and she passed away the next day," Strain said. "It was heartbreaking… I still have that sculpture."
Even though most students and faculty did not know Coates as well as Hanrahan, Parvo-Brown, and Strain did, his death deeply saddened the student body.
"In the aftermath of this tragedy, we saw a lot of students grieving," said Mrs. Donna Sweet, Assistant Principal for Student Services. "Students really acknowledged that there are people like Dan, and many were empathetic. In every tragedy, there's a high level of action that we need in order to sustain that empathy and kindness."
Sweet thinks that she and her fellow teachers and administrators should learn from this event by adjusting their practices and the school department's annual budget accordingly. "We all need to be more receptive to mental health issues," Sweet said. "As a school, we need more resources and funding in order to support students and faculty [by] better [addressing] wellness. We also need to provide more resources to students during the school day and help people become better informed about mental illness."
On March 9, Mrs. A.M. Finlay, North Kingstown High School's Student Assistance Counselor, will host a community training session about mental health and well-being among teenagers. Finlay will also work alongside her colleagues from Rhode Island Student Assistance Services to offer a separate training session for teachers. Finlay had planned the event before Coates' death, but she thinks that the training session now has a "new significance."
In the meantime, Finlay encourages students to look out for one another's well-being. "We can contribute to people's mental health in a positive way by looking for opportunities to be positive towards others," Finlay said. "Small acts of kindness, such as a smile or [a greeting], can really make a difference in people's lives."
Finlay also wants students to come and see her if they are in need of someone to talk to. "My door is always open," she said.
Hanrahan hopes that other students who struggle with their mental well-being will consider the tragedy of her longtime boyfriend's death before they make any life-altering or life-ending decisions. "Please ask for help if you are in a mental situation like Dan's," Hanrahan said. "You might think that you're the only one going through it, but others [have faced] the same problem and will want to help you."
"Please ask for help if you are in a mental situation like Dan's. You might think that you're the only one going through it, but others [have faced] the same problem and will want to help you."

– Maya Hanrahan, junior