Be our Guest "Beauty and the Beast" Musical Review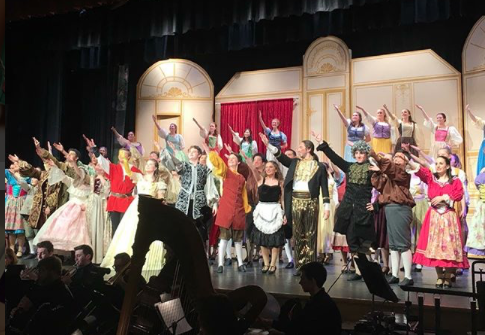 Hang on for a minute...we're trying to find some more stories you might like.
North Kingstown High School has become well-known for its yearly musicals. This year, Disney's Beauty and the Beast welcomed everyone to be their guest in March 2018. This show has had the most interest in a while, with all four shows selling out, and even undesirable seats (such as those next to the spotlights or the sound tables) being filled with eager people. The successful outcome of the musical this year has completed the journey the cast members have taken, from auditions to rehearsals, and finally, the performances.
"I was shocked, I was excited, I was a little nervous…" Makayla says when asked about her reaction when learning she got the part of Belle. Leah Popovic also remembered the moment she received news she was cast as Lefou, " I found out when I was in gym class, and my sister ran in and gave me a thumbs up and I just knew right away and I just started crying. It's my first major role and I'm just so happy to have the part". Various other cast members shared their stories of when they found out, and what was going through their heads when they saw their name on the cast list. Abbey Pezza explains the emotional moment of her finding out in class,  "I was in Biology and my friend Harper said 'Abbey you have to look at the cast list' and she had a frown on her face, so I thought I didn't get it so I was so upset, but she showed me the list and I got it and I screamed in the middle of bio class, and the teacher was like 'what's the matter with you?' and I was like 'I got the part I got the part!' and then the teacher started screaming with us.. It was great!". Some people cast as leads never expected to land a lead role in the first place, such as Josh Deus who played Maurice, "The past two years, i've been in the ensemble. I've had a few lines here and there, but nothing as big as this. I auditioned again and I got the part. It's very exciting!" Although some get the part they auditioned for, there is often a part given that proves to be for the best, as Audrey Swanson, playing the Dresser, found out, "I would definitely say I wanted Belle, but I was honestly so overjoyed that I got a named part and not ensemble, because I've only been ensemble for the past two years, i didn't really know too much about the wardrobe, so to get more into the part was interesting". Overall, the cast was extremely grateful to be cast as their characters, especially Michael Vento, a freshman who was cast as Monsieur D'arque "I was happy because I thought that I wasn't going to get him because I thought I did really good for the singing but terrible for the acting portion, so I was like 'oh I actually got him!'. And it was kind of overwhelming because I never really been in a production like this before."
Living up to an image or an idea of their characters seemed to be a common struggle when portraying the characters. Makayla comments that the hardest part about playing Belle was "Trying to live up to that Disney Princess whole idea". Cameron Ostiguy, (Gaston) also added, "I think it is tricky sometimes to find the line between being really masculine, when especially Tommy and I maybe aren't the hugest of guys in general (someone yells "tommy is!" in background) trying to portray someone that's so strong and masculine as they portray him in the movies is really difficult to do sometimes but we do our best at working through it."
Others found their struggles in comedy, "I think the comedy is the hardest part. Making sure everything is right with the audience and that they enjoy it is the hardest part,"adds Matthew Macari (Lumiere).
However, their hard work helped them overcome their troubles with their characters, which came to show in the amazing performances. One of the seemingly most difficult parts was the accents with the characters, something that the cast did well. "I practiced it while reading War and Peace over the summer at the beach I would like read my book and then read it in the French accent and that's how I developed lumiere" Macari shares. Other members had background experience prior to playing the role, "Well my family, and myself, are English and we always joke in accents around my house and I watch a lot of British movies. I don't know, i really just kept talking and saying it over and over until it stuck." says sophomore Abbey Pezza (Mrs. Potts). "I just kinda took what I knew from other british accents and i kind of like put a spunk on it, made it really dramatic. Ms. Ciazza compared it to one of the people from Gilligan's island, and that kind of drawing out syllables really added to it" (Dresser).
Despite the rough patches of playing the characters, there were also various things to enjoy about being within the walls of the Beast's castle. "The easiest part is being able to act really arrogant, because you basically disregard people's feelings and kind of have a good time with what you're doing out on stage." Cameron Ostiguy (Gaston) adds. Some characters also liked their lines, "Honestly, my favorite thing is when I come out in the gown at the end, and I say that same line that I say over and over 'Did you know I wore this the night I performed at the Royal Opera" It's so funny and Ms. Ciazza even had it so the characters around me were mouthing that so I really liked that she has that recurring thing because she's so self obsessed" Audrey Swanson (Dresser).
What truly made the characters come alive was how much the actors/actresses could relate to the part themselves. "I'm really like the mom of my friend group so it's kind of easy to relate to because i'm always the one that's like i'll take you in, i'll give you food, but if you ever do it again i will kick you in the butt" says Abbey Pezza (Mrs. Potts). "We are both crazy, I relate to Maurice in that way" Josh Deus comments. Mason Smith who plays Cogsworth also briefly mentioned how his similarities with the character show in his liking for structure in life. Cooper Cardone, playing the Beast, also noticed similarities, " I'm a very loud person as it is. Being able to be that kind of person that I usually am is the easiest part."  Even in the case that a student was a bit different than their character, they still practiced over and over until they could master the personality. "Personally I'm a super shy and introverted person, so especially that part where i'm all like 'careful darling' is super big, I had to do it over and over just to get it to be as big as it is now."Swanson, who was the dresser, added, "I'm definitely not the type of person to wear big, ecentric things that are totally like out there, I'm like more to myself".
By the time costumes arrived, the choreography began to get interesting, especially for the enchanted objects. "There is a lot of moving around because we didn't know how much we would be limited by our costumes, for myself and some of the other characters. When we received our costumes, it became much harder for us to be mobile." Matt Macari (Lumiere) recalls, "Dancing was easy until we got the candle costume because not being able to hold anyone's hands, especially when I tango, makes it very hard.". The cast went into more detail about how their costume "When I walk, I literally have to shuffle, and push it at the same time. As soon as people try to push me and help me, it ends up rolling over my feet. We had to change a lot of the choreography too because it wouldn't work, especially with mine and cogsworth costumes."
Choreography was especially challenging in the fight scenes, "Any of the fight scenes, even the one where i'm kind of fighting with the beast and the beast and gaston fight scene, are really hard to do." Makayla (Belle).
One of the best parts of performing is what the audience can learn from the characters. Makayla Lane says younger girls can learn "To be strong with who you are and to never forget where you come from" by watching the character Belle. Abbey Pezza also added what can be learned from her character "I think that Mrs. Potts is very forgiving and very kind and a lot of young girls need that, like they need somebody to show them that if you mess up it's okay. It's okay to mess up sometimes because there's always going to be someone who's going to forgive you".
In the end, members of the cast reflected on what made the musical memorable, or why Beauty and the Beast is a memorable musical itself. "It's our first Disney Performance ever, and, it's just really magical, the entire thing." says Makayla Lane (Belle). "Beauty and the beast is something that everyone grew up knowing, and the cast this year is very close. I know i've gotten close with the cast this year. The cast has been so loving, it's so cheesy but it's true" Abbey Pezza (Mrs. Potts) added. "Being able to come together as a family. We have worked so hard for months to be able to pull she show off and it's been a great turnout. I'm just so happy that everyone's been able to step up and focus and be able to come together, and get one of the biggest shows we have ever done here at NK done. It's very special to me to know that we have worked so hard and it's paying off." recalled Cooper (The Beast).
When asked if they were considering pursuing acting or theatre in the future, there were a variety of answers. "I'm thinking of double majoring in communications and theatre arts performance but I haven't made the decision yet." Makayla says. "I don't know that I am going to pursue theatre in the future, I know I want to continue singing in groups like that, or improv in college to have a fun time acting and to keep it up." Cameron says. "Yeah, i would love to. I've heard it's a very difficult career to pursue. It's definitely tough but i've been doing theatre since I was a kid and i've loved it ever since and I still love it now. I hope I'm going to be able to do things like that in the future. I would never want to stop acting or singing it's one of my passions and I love doing it. So hopefully if I ever get the chance I'd be able to perform more in my college career and after college as well." Cooper adds. Matt Macari (Lumiere) said simply "Possibly, but probably not.", and a similar answer was given from Michael Vento, "I don't know, maybe." Abbey Pezza responded, "Yes. I want to major in musical theatre in college.", which seemed to be the most definite answer. Another student had a more thought-out approach, "I would love to be involved in some things, but I don't think i'm going to have any sort of career with it. It's a lot of fun,  this is a family like no other but i'm not sure, I feel like a lot of theatres you have to be like super duper talented. Which I've also never gotten voice coach lessons, I've never taken any classes for this, i'm just kind of like 'let's do this, let's give it a shot'. If I went further with it in life, it would get more expensive it would get more competitive, but I mean, if the opportunity presented itself I would totally take it up because this is the best experience ever"
In the end, the cast had grown closer together and have loved the stage experience since day one. Leah Popovic (LeFou) personally loved the opportunity of "Being able to be an absolute fool on stage and to have a good time with it."
Abbey Pezza commented on the overall experience of the process of putting on the musical, lastly adding, "It was amazing to do."

About the Writer
Julia Tobin, Editor
Julia Tobin is currently a sophomore at NKHS, and currently serves on the Editorial Board. She spends her time between three after school clubs (explorers,...