Review of NKHS Production of "The Princess Bride"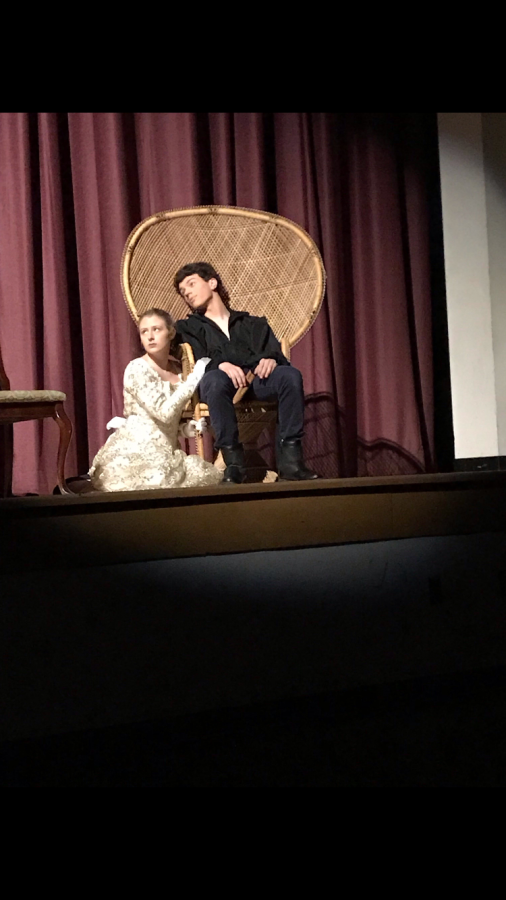 "
My hope for the future of the department is for it to eventually get more funding. Shaffer has been talking about not doing one next year, and even though I won't be here, I hope he continues doing the plays. . ."
— Alyssa Gibbs (Buttercup)
For years, North Kingstown High School has held spectacular, jaw-dropping stage productions. The plays and musicals have gained recognition and popularity for their excellence.
The productions this year proved to be just as promising. Students were excited and surprised to hear the fall play would be "The Princess Bride".
Chris Dunlaevy and Beckett Collins both landed the male lead, Westley. In an exclusive interview with Dunlaevy, he said, "I never had an experience with previous performances. Although, I think they're important because they give students a creative outlet to express themselves, which they might not necessarily get in math class."
Alyssa Gibbs, a senior who was one of two people playing the female lead, Princess Buttercup, also shared her opinion. "My hope for the future of the department is for it to eventually get more funding. Shaffer has been talking about not doing [a play] next year, and even though I won't be here, I hope he continues doing the plays." 
"The arts in general suffer because of budget cuts." said Mr. Robert Shaffer, director of the school play. "I'd like to see more integration with the fine arts and drama. And also, it'd be great if the art club could help with set designs." Shaffer proudly stated, "Isn't the arts the cornerstone of culture?"
December 14th was the opening night of the fall production, featuring Beckett Collins as Westley, Caroline Wright as Princess Buttercup, and Matthew Macari as Inigo Montoya. December 15th and 16th showed Chris Dunlaevy and Alyssa Gibbs as Westley and Buttercup.
The introduction to the play was sweet and simple. A gentle melody kicked in, played by pianist Daniel Ventura and guitarist Aidan Sullivan. Despite being the only two musicians playing in the pit, they made audiences forget they were performing live, and allowed their music to set the mood of the story. Thus, although limited in numbers, the pit delivered well.
The sets were simple, but conveyed what they needed to for audiences. The play featured tall wooden boards painted with trees and rolling plains to represent the countryside. Another wooden structure was crafted and painted to look like a ship. Although this set was obviously two-dimensional, the actors interacted with it very well, sparking many humorous moments when specific characters had to jump off "the ship". Props were also simplistic , but put to good use. Who doesn't love a good sword fight? Collins, Dunlaevy, Macari, Zahra Khan and Grace Rumowicz (Count Rugen) all engaged in classic sword battles. The grand throne of the villainous Prince Humperdinck became the focus of attention and served as a symbol of his wealth and power.
Costumes were very good, especially Westley's signature black shirt, pants, and mask, which were almost identical to "The Princess Bride" movie version.  Prince Humperdinck's royal outfit was colorful and extravagant, and well-suited to a wealthy monarch. There were many other costumes worth noting. A number of characters wore capes, such as Humperdinck's guards. The villagers in scenes of Humperdinck's royal ceremonies sported outfits very similar to those of ensemble members in last year's Beauty and the Beast, with a green or blue dress and brown cape.
Although the music, props, costumes, and sets were all great, it was the acting that was arguably the greatest strength of "The Princess Bride". Every actor was very convincing in their role. The show was well-cast, and everybody had a humorous line.
Collins nailed the role of Westley, perfectly portraying a clever, yet bold man deeply in love. His stage presence with Wright (Princess Buttercup) and Macari (Inigo Montoya) seemed natural and not forced. The three interacted very well. Another thing to note is that Collins wore a man bun, which seemed perfect for a character such as Westley.
Wright also delivered wonderfully. The character of Princess Buttercup certainly has less reason to be joyful, since she is constantly being kidnapped, lied to, and forced to marry. Still, Wright was great in the role of a beautiful, yet hurt young woman who fell in love and had her heart broken.
Dunlaevy, despite being a newcomer to NKHS stage productions, portrayed a marvelous and clever Westley. Dunlaevy stole audiences from the start when he uttered three words to Buttercup, "As you wish". He continued to impress the audience as he and Macari showed off their sword fighting skills. It's worth saying that he portrayed a more serious Westley, clever, bold, and scheming, whereas Collins' highlighted the more humorous aspects of Westley's character.
Gibbs played a fabulous Buttercup. Her annunciation and projection was stellar, as every word she delivered was passionate and well delivered. "I had a lot more fun playing Buttercup then I thought I would. . . The best part of it all was all of the unexpected friends I made along the way. I'm going to miss seeing them all every day for five hours." Although many hours (some painful) were put into this production, it's clear that it payed off, as Gibbs was able to marvelously portray such a famous character.
For those skeptical as to whether anyone could pull off Mandy Patinkin's "Inigo" on stage, the answer is yes! Macari delivered an amazing Inigo Montoya, perfecting the Spanish accent and making audiences laugh every five seconds. His physical appearance also helped audiences to instantly recognize Montoya's look, as Macari's long dark hair was perfectly suited for the role.
Jordan Scott delivered a wonderfully humorous, yet evil Prince Humperdinck. Scott showed the boastful side of the Prince, from making hilarious hand gestures, to meditating on his throne while the stage was still dark. Scott also had the stature of the Prince, which made audiences spot him easily, whenever he was on stage.
It is definitely worth mentioning other supporting roles that stole the spotlight. Tate Kent (who played Vizzini), was a memorable character. Kent's Vizzini was loud, cynical, and definitely obnoxious. Vizzini had many humorous lines that Kent nailed.
"My overall experience was positive," said Kent. "although we had many hiccups and stressful moments, the show come out amazing and for that it was all worth it in the end. . . I sincerely hope that more people will come to appreciate the play in years to come, because we work just as hard as those who participate in the musical."
Colin Aspelund was a wonderful Fizzik. His overall tone and numerous one-liners had audiences chuckling throughout the entire show. Seeing Aspelund enter the stage, you could always expect to laugh in the next few seconds. "After doing so much work together for so long, you gradually become closer together." Aspelund said. "It wasn't being on stage though that made it great, it was meeting new people. Some of the friends I have made I would have never met if I had not done the play."
Khan and Rumowicz were both very convincing as Count Rugen. Both girls excelled when it came to annunciation and projection. The role of Count Rugen needed to be one of strength and obedience. Both Khan and Rumowicz played the part perfectly. As previously mentioned, Rumowicz and Khan were stellar when it came to sword fighting with Macari (Montoya). A memorable moment that stuck with audiences was when Macari's character was finally able to avenge his father and kill Rugen. A solo light shined on Rugen as he fell to the floor: dead. Khan and Rumowicz were superb when it came to this scene, as Rugen's death was dramatic, just as it should have been.  
Miracle Max also was very amusing. The costuming of Max was certainly original, but done well. Tougas was definitely able to measure up to Billy Crystal's classic character. She pulled off the very energetic role with ease alongside another comical character, Valerie (Meagan Frye).
Frye's costume was exceptional, especially when it came to her frizzy hair. Additionally, she perfected the movements and gestures of Valerie. The interaction/fight between her and Tougas (Miracle Max) was comical and got the audience chuckling for sure. "As a senior, this was my last play at this school," Frye stated. "but seeing all of the alumni from previous years coming to see the show made me hope that these shows continue on in the future, so I have a chance to come back and see how everyone is doing."
Along with Frye's Valerie, the character of the Albino also had a great look. Lexi Forman had colored hair, whitened her face with makeup, and wore a long, black cloak on stage. This added to the sinister appearance the character needed in order to be portrayed properly. Forman spoke on behalf of her experience in the production and stated, "There are so many talented people in the play. From the artists of the set design (shoutout to Shannon Thompson who painted some amazing clouds) to stage managers and techies who basically carried the show to the actual actors who are all amazingly talented." Surely, Forman is one of many who realize that it is not just the leads that make the show, it is the entire cooperation of everyone in the production.
Additionally, Julie Hauke delivered a hilarious grandmother, who had to put up with two pesky grandchildren, all the while reading to them the story of "The Princess Bride". Her in and out appearances throughout the production were brief, but always witty in some way or another.
Jessie Girasole, who had limited stage time, played a wonderfully hilarious Clergyman, who was in charge of marrying Humperdinck and Buttercup. Her natural comedic ability and wonderful accent made audiences want to see more of her character.
Along with all the cast, the Stage Managers for "The Princess Bride" and tech crew cannot be forgotten. Their work and effort molded the show into what it was, and they must be acknowledged. The three Stage Managers were Emily Small, Dasha Albee, and Josh Deus. Small stated, "The best part about being involved in the production of The Princess Bride was getting to know all of the people and watch them grow. I've met some of my best friends while doing these shows and I feel as though these productions really brought us together." Small added, "For one thing, I wish the drama/art departments would get more recognition. . . I would encourage anyone to join the drama club. Whether it be acting on stage, or painting the sets, you get to work with some amazing people. It's a really positive environment and everyone is welcome."
The cast and crew worked in their best ability to make the show as great as possible, although it's impossible for any show to go without one or two mistakes. As for faults of the show, none were major. However, at times annunciation became hard to comprehend, as lines were occasionally rushed and not projected well. This was mostly a result of facing backstage, and not to the audience. Occasionally, sets and props were noisy when being moved behind the curtain when actors were performing, but it was once again, nothing major.   All-in-all, "The Princess Bride" was a fun show. It is clear Shaffer took what he had and made an amazing production, along with the help of a great cast and hard-working crew. The acting was magnificent, as the actors dove into their characters and convinced audiences. With all the comedy incorporated into this production, it would be nearly impossible to leave the show with a frown on your face.
-34-
About the Writer
Michael Vento, Editor
Michael is currently a Sophomore at NKHS, and currently serves on the Editorial Board for the Current Wave. He participated in the JV Tennis Team and landed...