Dr. Auger Proposes Construction of New Middle School, Tearing Down of WMS
Davisville Middle School potentially converted to an elementary school, and elementary school would be considered grades K-6.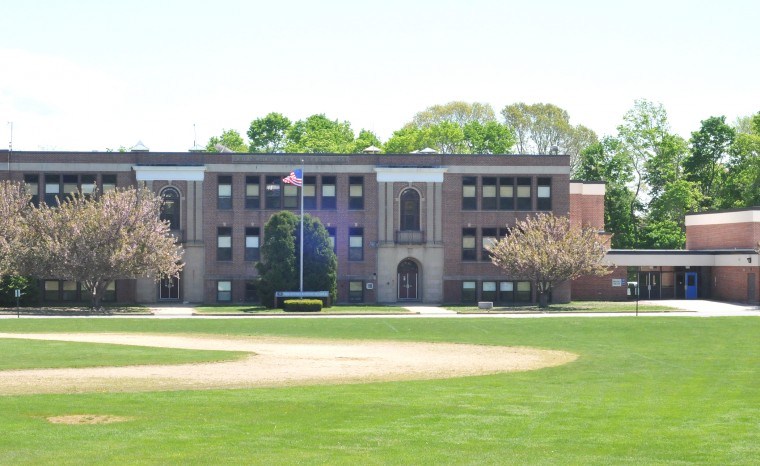 Wickford Middle School could be torn down and a new middle school could be built on the front fields of the existing school, according to North Kingstown school district Superintendent Dr. Phil Auger's proposal, which was announced at a joint School Committee and Town Council meeting on Monday night. In addition, Davisville Middle School would be converted to an elementary school, and students in grades kindergarten to sixth grade would attend elementary schools, and grades seventh and eighth would attend the sole remaining middle school for the district, named as North Kingstown Middle School. 
Auger also revealed that under this proposal, Forest Park Elementary School would be closed and either sold or repurposed as an administrative building for the district. He also stated that the proposal could potentially allow for middle schoolers to be bussed at the same time as high schoolers because of how close Wickford Middle School is to the high school, possibly allowing the middle school and high school to start at the same time. This would mean a later start time for the high school, something that parents and students alike have been pushing for for many years. 
In addition, if the proposal is accepted by the town council and passes a public bond referendum, then the land where Wickford Middle School currently resides on would be converted to new fields and parking space for the new middle school. Auger backed this plan up by stating, "Everything about [Wickford Middle School] is not what we have in a modern school anymore."
The main factors behind this proposal, according to Auger, were the idea of creating a smaller amount of buildings within the district, and allowing for more modern updates to the buildings they had, or as Auger coined it, "newer and fewer." He also cited that the moving of students and grades would allow the district to have a greater capacity for a potential increase in population of students in the district. 
Auger also noted that under this proposal, a more equitable distribution of lower income students would be created throughout the district at the elementary school levels. He pointed out that 70 percent of Quidnessett Elementary School receive free lunch, and with this proposal, the lower income students would be able to be more evenly dispersed throughout the district, with students being spread between Quidnessett and Davisville Elementary. 
The students that had attended or would have attended Forest Park would be divided between the elementary schools of Davisville, Quidnessett, and Stony Lane. Auger noted that Forest Park was the second oldest existing elementary school after Fishing Cove, at 57 years old, and did not have a gym, unlike Fishing Cove. 
Another key factor behind the proposal was the idea of being able to improve security in existing schools, as well as to allow for changes to school start times. The preschool program at Fishing Cove would also be able to expand from five classrooms to ten classrooms under the proposal.
Potential benefits of this plan, according to Auger, are the idea of all North Kingstown students being able to attend school together beginning in the seventh grade, which could lead to increased unity throughout the school system. He also made note of the fact that this would maximize the ratio of students enrolled in a school compared to the maximum capacity of a school, setting a target at eighty percent for this ratio. The plan would also allow the district to fix the roofing, parking lot, and school security issues at several schools, including North Kingstown High School and Fishing Cove. 
Auger also pointed out that this proposal would also create multiple alternatives to the current office space the school department is using for their administrative offices, and presented the council and school committee with different alternatives. One of them being moving the current Quonset administrative building and Davisville Academy programs to Forest Park, and renovating Forest Park to allow for more modern updates. The others were to build new offices for the district which would allow them to take advantage of state housing aid, or to potentially add new district offices at Fishing Cove, alongside the preschool expansion there. 
Before his proposal, Auger also outlined important information for the town council, including the district's goals to improve special education in the middle school, as well as increasing mental health services throughout the district. He emphasized the district's efforts to look at changing district start times, in response to a growing public movement led by students and parents alike. He also drew attention to the growing threat of charter schools to local school districts, such as the nearby Kingston Hill Academy who can draw away local students. 
One of the main points in Auger's presentation was that due to funding and housing aid provided by the state, the district would be able to take advantage of these benefits during the construction and repair of district buildings.
The Town Council appeared to be in support of Dr. Auger's proposal, with Town Council President Gregory Mancini stating, "The state has incentivized it, if we are to do this, now is the time. We would like to work collaboratively with the school committee." However, they also wanted further research on the potential financial and social impacts of this change. So nothing has been finalized or approved yet, and the two groups plan to meet more in the coming months to look at potential amendments to the plan before the Town Council will vote on it, and if it is approved, it will be put to a public bond referendum. 
Chairman Gregory Blasbalg of the school committee offered his thoughts on the proposal during the meeting, stating, "This is a once-in-a-generation plan for North Kingstown schools."
-30-